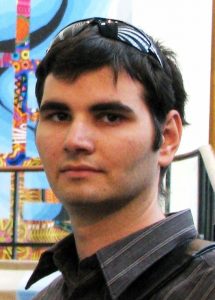 Igal Kronhaus
Assistant Professor
(04) 829-2477
Asher Space Research Institute, 203
B.A (with honors) – Physics, Technion, 2007. M.Sc., and Ph.D. – Aerospace Engineering, Technion, 2009 and 2012, respectively. Post Doctoral Fellow, Wuerzburg University, Wuerzburg, Germany, 2012-2013. Post Doctoral Research Associate, Bundeswehr University Munich, Germany, 2013-2014. Recipient of a Minerva fellowship (Max Planck Society) for postdoctoral research, 2013.
Electric propulsion,
Plasma diagnostics,
Numerical modeling of plasmas,
Cathodic arcs and Micro-discharges,
Orbit and attitude control of small spacecraft,
Plasma actuators.
Kronhaus, I., Kapulkin, A., Guelman, M., "Field Emission Cathode with Electron Optics for use in Hall Thrusters," Journal of Applied Physics, Vol. 108, p. 054507, 2010.
Kronhaus, I., Kapulkin, A., Guelman M., Natan, B., "Investigation of two Discharge Configurations in the CAMILA Hall Thruster by the Particle-in-Cell Method," Plasma Sources Science and Technology, Vol. 21, p. 035005, 2012.
Kronhaus, I., Kapulkin, A., Balabanov, V., Rubanovich, M., Guelman, M., Natan, B., "Discharge Characterization of the Coaxial Magnetoisolated Longitudinal Anode Hall Thruster," Journal of Propulsion and Power, Vol. 29, pp. 938–49, 2013.
Kronhaus, I., Schilling, K., Pietzka, M., Schein, J., "Simple Orbit and Attitude Control using Vacuum-Arc-Thrusters for Picosatellites," accepted for publication in Journal of Spacecraft and Rockets, accessed May 12, 2014,
doi: http://arc.aiaa.org/doi/abs/10.2514/1.A32796
Kronhaus, I., Eichler, S., Schein, J., "Schlieren Characterization of Gas Flows Generated by Cathodic Arcs in Atmospheric Pressure Environment," Applied Physics Letters, Vol. 104, p. 063507, 2014.