SAMSON– SAtellite Mission for Swarming and GeOlocatioN
Idan Agamy, Anton Astanovsky, Asaf Feniger, Ohad Shalev, Eran Shoshani and Or Tabach
Jacob Herscovitz, RAFAEL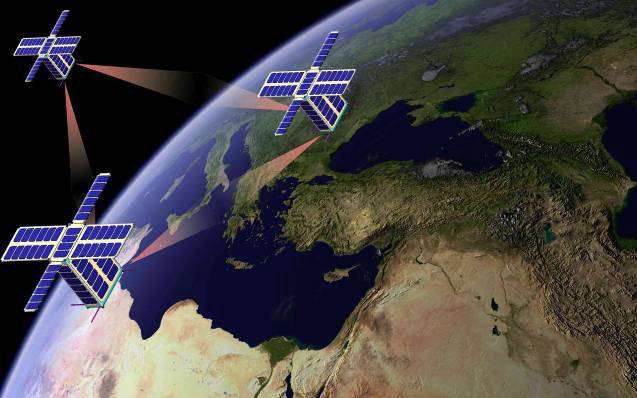 SAMSON is an ongoing student project led by the Technion and supported by RAFAEL, IAI and other partners. SAMSON shall include three nano-satellites (based on the CubeSat standard) and will be worldwide first cluster flight mission of satellites. The mission is set to launch at 2015/2016, and is planned for at least one year in low earth orbit (LEO).
SAMSON project has two main goals:
Demonstrate long-term autonomous cluster flight of multiple satellites.
Determine the position of a terrestrial emitter (geolocation).
The 2013-2014 SAMSON Student Project consisted of a group of 4th year students from the Faculty of Aerospace Engineering at the Technion. The students took part in engineering, designing and analyzing several of the satellite's sub-systems. During 2 semesters, the student group worked on five of the project's sub systems:
Geolocation- Developing estimation algorithm in order to locate the position of electromagnetic emitter.
Combined system simulation- Simulating the full SAMSON space and ground segments and processes.
Post Launch Separation- Estimating the fuel consumptions results from the velocity and directions of the satellites at the moment of separation from the launcher.
Sun sensors- Simulating the time of sun acquisition depending on the sun sensors alignment.

Structure Analysis- Satellite frame strength analysis.
SAMSON– SAtellite Mission for Swarming and GeOlocatioN