Development Risks and Systems Engineering in the Delilah Program
Prof. Joseph Z. Ben-Asher
Faculty of Aerospace Engineering
Technion – Israel Institute of Technology
Delilah (at the top of the stamp) is an air-to-surface missile with precision strike capabilities against both fixed and moving targets, with a maximum range of over 200 km, beyond the range of anti-aircraft weaponry, and minimal risk to air crew. Delilah performed successfully during the Second Lebanon War, as part of the IDF's efforts to destroy long-range missiles aimed at Israel. In the seminar the development risks will be presented and analyzed. The associated systems engineering processes – particularly the risk reduction development tests – leading to the successful system will be described.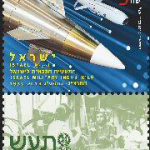 The talk will be given in Hebrew
Wed, 08-01-2014, 16:30 (Gathering at 16:00)
Classroom, ground floor, Library, Aerospace Eng.
Light refreshments will be served before the lecture
Development Risks and Systems Engineering in the Delilah Program