ASSURE affiliate member Sinclair College visits the Faculty
The Faculty of Aerospace Engineering since this year is an affiliate member of the FAA's Center of Excellence for the Alliance for System Safety of UAS through Research Excellence (ASSURE, http://www.assureuas.org/). On March 27, the Faculty hosted Sinclair Community College, also an ASSURE affiliate member, to tour the department and spark possible research collaborations under the ASSURE program.
In attendance were Dr. Andrew Shepard (Director of Unmanned Aerial Systems) and Deb Norris (Senior Vice President, Workforce Development and Corporate Services) of Sinclair Community College, along with Hadas Bar-Or, a representative for the Dayton Region Israel Trade Alliance. Also in attendance from the Faculty was the Dean, Asst. Prof. Daniel Zelazo (faculty ASSURE representative), Distinguished Prof. Daniel Weihs, Prof. Moti Karpel, Asst. Prof. Oksana Stalnov, Asst. Prof. Stephen Rudyk, and Orly Reiss (Alumni and External Relations Coordinator).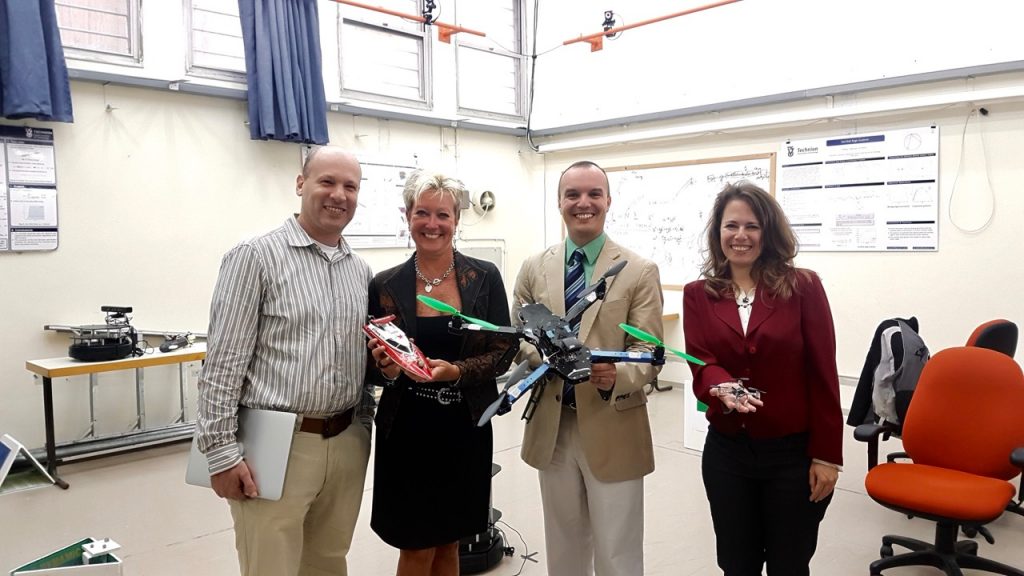 The visit included brief presentations from Sinclair and our Faculty, vibrant discussions on potential research collaborations, and lab visits to Asst. Prof. Vadim Indelman's Lab and Assoc. Prof. Tal Shima's Lab.
ASSURE affiliate member Sinclair College visits the Faculty