Advanced Business Jet
Fogel Omer, Horneman Elchanan, Kalenko Sergey, Nir Idan, Rudelson Grisha, Sela Shay, Shavit Rotem and Zaiderman Tom
Attar Moshe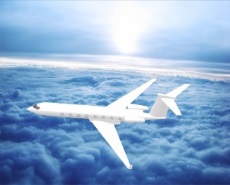 Advanced Business Jet Project is a project that is meant mainly to experience a thorough air vehicle design, from the conceptual design phase to the advanced and detailed design phase.
This project is ambitious in several ways, and it is dedicated to creating a mid-large size Business Jet whose capabilities stand in one line with the technological frontier of the Business-Jet field.  Like every civil product, our product has the purpose of providing optimal solution for the Business-Jet market requirements and needs.  After performing a market analysis, we found that it has never been more imperative to develop a faster, larger and longer range Business-Jet, in order to conquer the next 20-year Business-Jet market.  That's been said; we defined a list of main system requirements to aim at along the developing process, among those requirements are: cruising speed of 0.85 Mach and Max range of 6000 nautical miles.  Those system requirements led us to a special structural design, including composite materials design of some components in the aircraft and to an aerodynamic design that yielded a super critic wing profile.  Throughout the design we used analytical tools and CFD calculators, accompanied with a wind tunnel experiment.  Another choice we made that significantly brought us forward in terms of performance, was the choice of the engine.  The engine was chosen to provide maximal efficiency and thrust but with minimal weight, therefore we chose the future engine of General Electric Corporation.
In order to improve aircraft stability we designed Stability Augmentation System (SAS) for both the lateral and the longitudinal planes of the aircraft. We also design Auto-Pilot (CAS) for maintaining flight altitude.  The new improved flight characteristics were checked in reference to FAR-25 and MIL-STD in order to determine whether the obtained characteristics respect the commercial standards, which are more tolerant than those of the military and therefore are common to use.
Our product has a solid stand in the market, meaning, there are few planes in the same scale that can obtain similar performances.  The Product provides an elegant answer for the future trends and requirements of its market.  Its price approximated at $45M, which is reasonable and well competes other air-crafts that possess poorer capabilities. Once the GE engine is on the shelf, we believe that our Advanced Business-Jet will conquer the Business-Jet market.