Aeolus- Autonomous Jet UAV
Yotam Norman- Project Leader, Eyal Dado & Avihai Bochris- Aerodynamics, Hagai Ben-Israel & Lev Draglev- Structure, Koral Izraelov & Yotam Norman- Control & Simulation ,Ariel Kolpakchi & Aharon Barel- Propulsion, Avihai Bochris & Eyal Dado- Integration & Logistics
Shlomo Shpund
Dr. Shimon Saraf- Jet Propulsion, Dan Solodky- Systems Control, Yehonathan Burgansky- Structure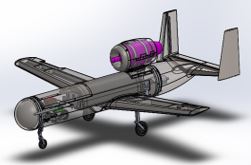 Aeolus is a 4 years project dedicated to the complete design of an autonomous, jet propelled UAV. The team is made of students during their last year of studies towards B.Sc. in Aerospace Engineering at the Technion.
Aeolus is supported by both RAFAEL and MAFAT.
Main Design Requirements:
Keep the design as simple as possible
Cruising speed of 0.2M- 0.5M
Static & dynamic stability
Autonomous takeoff and landing
Capable of 15 minutes flight duration
Stabilized turns at up to 2g
Vertical turns 1g-3g
In the first year of the project, the preliminary design was completed and a starting point for the iterative design process was obtained.
The main design decisions were:
– Position the jet engine above the UAV body. (Above and parallel to the horizontal axis)
– Cylindrical body for simple design and minimize drag as much as possible
– Due to the unique position of the engine, an 'H' tail configuration was chosen in order to prevent the jet emission from damaging the tail.
Once the initial configuration was determined, a wind tunnel model was created. Also, a set of jet engines from AMT in the Netherlands were selected and purchased: The Pegasus HP engine was chosen to be used for the UAV and the HP Olympus engine for educational purposes.
In the second year of the project, the design process continued and focused on perfecting the aerodynamic model using the results from the wing tunnels experiments. The results led to the redesigning of the wing and the actuators. Also, after achieving a big progress in the detailed design process, 2nd year's team have started contracting with a variety of manufacturers to begin the production of a wide range of parts that have been ready. A platform was built for the engine test set and an updated engine deck was obtained by conducting experiments with the Pegasus engine. Also, a 6DOF flight simulation and takeoff simulation were built and the 1st guidance route was designed.
During the last year of the project, the main objectives have been shifted from iterative design to validation and experiments. In order to deal better with the upcoming challenges associated with the current phase the project is in- a new team has been assembled- "Integration & Logistics". This team's main goal was to ease on the integration between the different teams and parts, construct the synoptic map and the Iron-Bird model and also being in charge of purchasing and communication with providers.
The structure team have continued the work on the CAD model and designed the landing gear formation. The propulsion team have conducted a number of experiments in order to further identify the project's engines. The aerodynamics team has finalized the aerodynamic model and design and the control team has designed the second guidance route, constructed a landing simulation and further improved the realism of all simulations by adding sensors disturbances & noise and a more accurate actuators model.
The significant achievements in the project up to this point in time:
Finalized aerodynamic model & design
(Almost) Completed detailed design across all disciplines
Engine- cover integration process
Transient experiments in the Pegasus HP operational engine
System identification of the Savox SV-1232MG servo
6DOF, Take-Off and Landing simulations development
Proof of design for demonstrating mechanisms (landing gear and aileron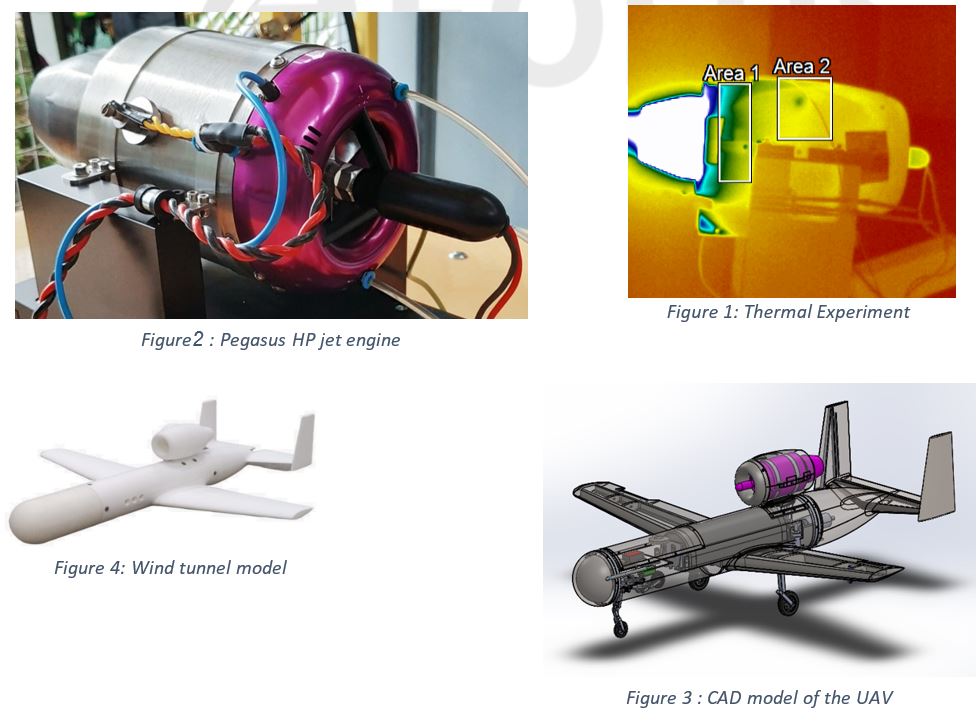 Aeolus- Autonomous Jet UAV