AidBird Medical Supply UAV
Judith Rooz, Semion Greiserman, Elad Saul, Maor Levy, Michael Palman, Roy Kosary and Sefi Fuchs
Dr. Isaac Kadushin
The medical supply UAV project arose following a request from Dr. Din Nachman, a Medical Officer, with the purpose of finding a solution for delivering a large amount of medical equipment for military units with casualties, without endangering air crew members and in minimum time.
For the project, several requirements were defined by the supervisor in accordance to the Medical Corps needs:
Transport 50 kg equipment to a range of approximately 20 km within a period of 10 minutes after deployment.
The UAV can be lunched from a variety of air crafts.
Disposable. In other words, the cost of production and maintenance of the UAV is minimal.
At the beginning of the project, a number of possible configurations (except for the glider) were examined while reviewing the parameters required to satisfy customer requirements. Finally, a decision was made to design a UAV, since this was the only configuration that met all customer requirements.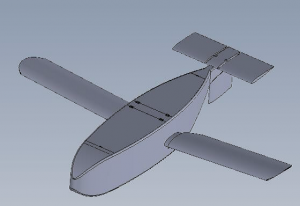 The final configuration includes a UAV aerodynamic body profile, conventional main wings with folding configuration, a conventional horizontal tail configuration also foldable and vertical tail downward. The UAV was modeled in Solid Works to have different values for further planning.
In addition, the digital Datcom was used to confirm the analytical calculations and to receive stability derivatives in order to design the control system.
Finally, a tunnel model was built in a scale of 1:5 to perform the wind tunnel experiment. The results are compatible with the analytical calculations.
The main conclusion at the end of the process was to change client requirement so that the design of the medical equipment enclosures would allow designing a more aerodynamic body.
AidBird Medical Supply UAV