SunSailor: Solar Powered UAV
A. Weider, H. Levy, I. Regev, L. Ankri, T. Goldenberg, Y. Ehrlich, A. Vladimirsky, Z. Yosef, M. Cohen
Shlomo Tsach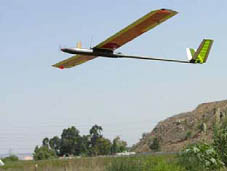 The projects aim was to design, build, and test and fly a solar powered unmanned aerial vehicle (UAV) with the final goal of breaking the world record for flight distance under certain limitations. The world air sports federation (FAI) world record for the F-5-SOL category was set on June 13, 1997 at 48.21 km. Our goal was to set a new record at 139 km. The whole flight must be radio controlled and no autopilots of any kind may be used to help fly the UAV. Other objectives of the project were proving the feasibility of solar powered, low altitude long endurance UAVs under certain design limitations and advancing the use of clean power sources in subsonic aviation. This project enabled the students to integrate knowledge acquired in their academic studies and gain experience in air vehicle development, manufacturing and testing.
Aircraft Requirements
Electrical motor propulsion.

Radio controlled flight without the help of any telemetry.

Maximum upper surface area of 1.5 m2.

Maximum weight of 5 kg.

Only solar cells are permitted as the propulsion system power source.
Performance
Two models were built at the Technion workshop. The first flew its first solar flight on June 29th, 2006. It crashed on its third solar flight. The second was built in 54 days, flew and crashed on its maiden solar flight. The third UAV is under construction.