Media Exposure for The Faculty's Medical Glider Undergraduate Students' Project
The medical supply UAV project arose following a request from Dr. Din Nachman, a Medical Officer, with the purpose of finding a solution for delivering a large amount of medical equipment for military units with casualties, without endangering air crew members and in minimum time.
For more details about this project, click here.
After the project was presented at the annual research conference of the medical corps of the Israel Defense Forces and other conferences in the United States, and raised great interest, the project gained its first media coverage in Israel Hayom newspaper and subsequently in other places.
To read the article, click on the image below.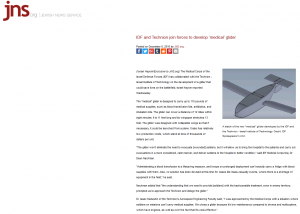 Media Exposure for The Faculty's Medical Glider Undergraduate Students' Project