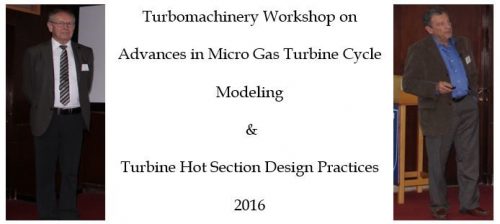 On November 15th 2016, for the fourth consecutive year, a turbomachinery workshop organized by Asst. Prof. Beni Cukurel was held at the Technion Aerospace Department.
The training activities were geared towards creating a platform for world-leading minds in the field of turbomachinery to come and share their knowledge with students, members of academia, and industry.
This year we had the honor of hosting Dr. Joachim Kurzke and Dr. Boris Glezer – experts in the fields of Micro Gas Turbine Cycle Modeling and turbine hot section design, respectively.
Dr. Joachim Kurzke's session was on the topic of advances in micro gas turbine cycle modeling, and included:
• How gas turbine performance programs work.
• GasTurb 13 program demonstration.
• Compressor Performance.
• Modeling the CFM56-3.
Dr. Boris Glezer presented on the topic of turbine hot section design, and covered aspects such as:
• Combustor and nozzle entry transition.
• Turbine vanes and blades.
• Tip clearance and turbine interior air flows.
• Engine uprates.
Members from branches of MAFAT, Israeli Air Force, Bet Shemesh Engines, Rafael, Israeli Aircraft Industries and Technion faculty/staff/students attended the event. Total registration included over 50 participants. We have received significant positive feedback from all those who attended the sessions.