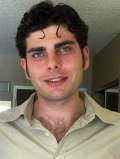 Beni Cukurel
Assistant Professor
(077) 887-1962 
Lady Davis 740
B.Sc., M.Sc., and Ph.D. in Mechanical Engineering, Purdue University, IN, USA, 2005, 2008 and 2012 respectively. Doctoral researcher at von Karman Institute for Fluid Dynamics, Rhode-St-Genese, Belgium, 2008-2012. At the Technion since 2012.
Basic and Applied Heat Transfer:
Thermo-Acoustic Interaction, Conjugate Heat Transfer, Active Flow Control, Jet Impingement, Thermal Barrier Coatings.
Measurement Technique Development:
Infrared Thermography, Liquid Crystal Thermometry, Particle Image Velocimetry, Hotwire Anemometry, Laser Induced Fluorescence.
Gas Turbine Component Analysis:
Turbine Cooling and External Flows, Aero-Thermal Design of Gas Turbine Hot Gas Section, Axial and Radial Compressor/Turbine Aerodynamics.