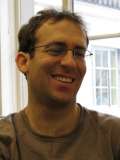 Avshalom Manela
Assistant Professor
(04) 829-2237 
Lady Davis 750
Education:
2006 PhD, Aerospace Engineering, Technion
2002 MSc, Aerospace Engineering, Technion
1999 BSc, Aerospace Engineering, Technion
Academic Appointments:
2010-present: Assistant Professor, Faculty of Aerospace Engineering, Technion
2006-2010: Instructor in Applied Mathematics and Research Affiliate, Department of Mathematics, Massachusetts Institute of Technology.
Aeroacoustics: vibroacoustics, vortex sound
Fluid-structure interactions
Rarefied and small-scale gas dynamics
Hydrodynamic stability
Manela, A., Radtke, G.A., Pogorelyuk, L. 2014
On the damping effect of gas rarefaction on propagation of acoustic waves in a microchannel, Phys. Fluids 26, 032001.
Manela, A. 2013
Nonlinear effects of flow unsteadiness on the acoustic radiation of a heaving airfoil, J. Sound Vib. 332, 7076-7088.
Manela, A. 2013
On the acoustic radiation of a pitching airfoil, Phys. Fluids 25, 071906.
Manela, A., Huang, L. 2013
Point vortex model for prediction of sound generated by a wing with flap interacting with a passing vortex, J. Acous. Soc. Amer. 133, 1934-1944.
Manela, A., Miloh, T. 2012
Forced motion and acoustic radiation of an elastic cylinder in axial flow, J. Sound Vib. 331, 3544-3557.
Manela, A., Zhang, J. 2012
The effect of compressibility on the stability of wall-bounded Kolmogorov flow, J. Fluid. Mech. 694, 29-49.
Manela, A. 2012
Vibration and sound of an elastic wing actuated at its leading edge, J. Sound. Vib. 331, 638-650.
Manela, A. 2011
Sound generated by a vortex convected past an elastic sheet, J. Sound. Vib. 330, 416-430.