The 62nd Israeli Aerospace Sciences Conference (IACAS) opened with a lecture by the former commander of the Air Force, Major General (Ret.) Amikam Norkin
The conference took place in Tel Aviv and the Technion and dealt with various scientific aspects of aviation and space, including drones, cyber threats, rocket propulsion, and improving aircraft. The conference's chairman was Brigadier General Shlomi Konforty, head of an equipment division in the Air Force.
At the IACAS keynote lecture titled "The Middle East as seen from the cockpit," Major General (Ret.) Amikam Norkin said, "in the last decade, the reality relevant to Israel has changed in all circles – internal, Middle Eastern, and global. Israel is currently in a changing space of threats, organizations, and other factors. The broad circle of global events is also affected by China-US relations, the war in Ukraine, and the fight against ISIS. Faced with this reality, we must decide which threats to focus on and invest in. Will we focus on the terrorist threats in Gaza? On the dangers from Lebanon? Or perhaps on the Iranian threat? These are fateful and weighty decisions."
Over the two IACAS days, over 120 lectures were held on various topics, including propulsion, navigation, autonomous systems, engine-propeller coordination, flexible wing, computational learning, hypersonics, and wind tunnel testings. In addition, several renowned lecturers from leading institutions worldwide participated IACAS and gave plenary lectures.
T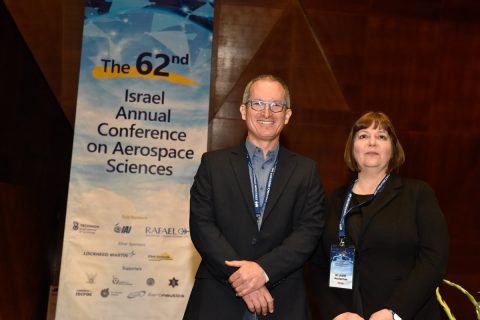 he second day of the conference, which took place at the Technion, was opened by Professor Tal Shima, Dean of the Department of Aerospace Engineering. He said that "the conference brings together the best experts in academia and industry in Israel and abroad and is a platform for promoting knowledge and joint projects. This year we invited about 100 high school students to the conference. We hope many of them will come to study at the Technion and lead the world of Israeli aerospace in the future." Prof. Shima thanked the conference organizers, the chairman of the organizing committee, Brigadier General Shlomi Konforty, and the chairman of Associate Professor Beni Cukurel from the Technion.
The opening lecture on the second day was given by Dr. Judith Hocherman-Frommer, a graduate of the Technion (three degrees) and currently the Senior Vice President for Research and Development at Rafael. The talk focused on the challenges Israel and Rafael are facing and directions for future innovative solutions. She also addressed the 100 high school students who participated in IACAS and said that "aerospace is an amazing interdisciplinary field that is changing the world, and we invite you to join this community."
The IACAS conference is an annual event that brings together the scientific aeronautics and space community from Israel and abroad. IACAS is supported by: The Technion, Rafael, Israel Aerospace Industries, Elbit Systems, and Lockheed Martin.