The 2019 Undergraduate Student Project Exhibit
Students at the Faculty of Aerospace Engineering presented their projects at a festive event: an aerodynamic kit for a race-car, a swarm of fire-detection quadcopters, a plasma-powered nano-satellite and more
On June 26th, the faculty of Aerospace Engineering held its Undergraduate Student Project Exhibit. Faculty Dean, Prof. Yitzhak Frankel, told the students: "The projects presented here are your first experience in integration in all aspects of aerospace engineering. I have no doubt that you have learned a lot from them and that in your work in the industry you will learn a lot more. I remind you that industry is not the only option and invite you to continue here towards a Master's degree – whether you decide to stay in the academy afterwards or go out into the job market. "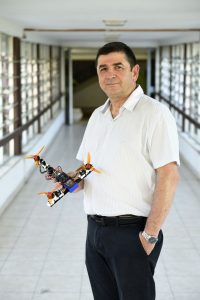 The faculty's Student Project Coordinator, Assoc. Prof. Gil Yudilevitch, told the students: "The projects have given you the opportunity to experiment with systemic work from A to Z, similar to working in the industry. In doing this, you have developed the systemic vision required in systems engineering. You have also experienced many difficulties in integration, experimentation, take-off and landing. For that I say – welcome to reality! This is what the real world looks like, and I have no doubt that the difficulties and mishaps only enhance the experience of the project. "
The event featured the various projects – new projects and continuation projects from previous years – that the students conducted under the guidance from industry experts. The new projects presented at the event are the Aeolus autonomous jet UAV; the iSplane crop duster UAV, whose operations are not affected by darkness, haze and cloudiness; and A3 – the aeroelastic UAV. The projects that continued previous years' work are: Fire Fly – an autonomous quadcopter swarm for early forest fire detection; VITO – a long-range Ducted-Fan quadcopter; DriveSat – a nano-satellite that maneuvers using innovative plasma propulsion technology; Cornetto – an array for launching and tracking missiles, developed together with the Technical University of Munich, and an aerodynamic system that improves the Formula car, built at the Technion by an inter-faculty student team.
Front Viewer – a fast UAV that takes off and lands vertically, is a unique project developed in collaboration with the University of San Diego. Thanks to its unique take-off and landing capabilities, it is suitable for being launched from a ship for observation and detection missions.
View all the photos from the event.
Credit: Itzhar Vardi, Technion Spokespersons Office (translation – Vered Seginer)
Photos: Rami Shlush, Technion Spokespersons Office
The 2019 Undergraduate Student Project Exhibit